---
RE: New Grim Reaper Death Thread - bullet - 02-05-2021 08:52 PM


(02-05-2021 06:23 PM)

JRsec Wrote:

(02-05-2021 06:17 PM)

Fort Bend Owl Wrote: Christopher Plummer dead at 91. He was a great actor who appeared in a ton of stuff through the years, but he was best remembered as Captain Von Trapp in The Sound of Music.

So long, farewell....






Yes, but he was also the head of P.A.G.A.N. (Persons Against Goodness And Normalcy)!

Dragnet (The Movie)

But he showed great versatility being able to move from the Austrian Folk Dance called the Lindler to the Goat Dance of P.A.G.A.N.!

DJ was going on and on how she and all her friends just loved Christopher Plummer. Convinced me I should see a movie he made in 2015 called "Remember." Haven't seen it yet, but she said its very dark about an old man (Plummer) with dementia.


---
RE: New Grim Reaper Death Thread - bullet - 02-05-2021 08:53 PM

I did the Sound of Music Tour in Salzburg. It was corny but great fun.

One of the things the guide pointed out was that the mountain the Von Trapp Family was crossing to escape Austria would lead them straight to---Germany! NOT Switzerland.

Also that the nanny was the grim taskmaster. The Dad was a soft touch.


---
RE: New Grim Reaper Death Thread - DavidSt - 02-06-2021 05:58 PM

Former Tennessee Titans tackle, Josh Evans dead at 48.


---
RE: New Grim Reaper Death Thread - GoodOwl - 02-06-2021 11:14 PM

Former heavyweight champion Leon Spinks dies at 67



FILE - In this Feb. 15, 1978, file photo, Leon Spinks, right, connects with a right hook to Muhammad Ali, during the late rounds of their championship fight in Las Vegas. Former heavyweight champion Leon Spinks Jr. died Friday night, Feb. 5, 2021, after battling prostate and other cancers. He was 67. (AP Photo/File)

"In that fight everything clicked," Bob Arum said. "He came in with a game plan and he beat Ali. It wasn't that Ali wasn't at his best, but Leon shocked everybody with how good Leon was."

Suddenly, Spinks was the heavyweight champion of the world at the age of 25.

"I'm not The Greatest," Spinks said afterward. "Just the latest."

Among the notable people in Spinks' entourage was Lawrence Tureaud, who would later be known as the actor Mr. T and served as bodyguard for the champion.


---
RE: New Grim Reaper Death Thread - Fort Bend Owl - 02-07-2021 03:17 PM

George Shultz dies at age 100. He was one of only two men to ever hold four different Cabinet-level posts (he was Secretary of Labor, Treasury and Defense under various Republican presidents - he was also OMB Director which is considered a cabinet-level position but not one of the 15 departments of the Cabinet). Btw for the trivia buffs, the only person to lead four different Cabinet offices was Elliott Richardson (he was Secretary of Health, Education and Welfare, Defense Secretary, Attorney General and Secretary of Commerce). James Baker and Donald Rumsfeld ran four different Cabinet offices each but both repeated the same role for two different presidents so 3 different jobs apiece. They're both still alive and kicking.


---
RE: New Grim Reaper Death Thread - Redwingtom - 02-09-2021 12:01 PM

RIP Marty Schottenheimer. Alzheimer's.

Marty Schottenheimer, legendary NFL head coach, dies at 77


---
RE: New Grim Reaper Death Thread - bullet - 02-09-2021 01:10 PM

RIP Mary Wilson, 76.

https://www.cbsnews.com/news/mary-wilson-dies-age-76-supremes-founding-member/

One of my favorites from the Supremes:
https://www.youtube.com/watch?v=U97mKbD6DwI


---
RE: New Grim Reaper Death Thread - DavidSt - 02-10-2021 08:54 PM

Hustler's founder, Larry Flint, dead at 78.


---
RE: New Grim Reaper Death Thread - GoodOwl - 02-13-2021 09:04 PM

I've worked on Neve consoles...magnificent! Sorry to see him go. Thanks, Rupert.

Rupert Neve (31 July 1926 – 12 February 2021), born in Newton Abbot, England, was a British electronics engineer and entrepreneur, who was particularly known as a pioneering designer of professional audio recording equipment. Neve died on 12 February 2021 in Wimberley, Texas, U.S., due to pneumonia and heart failure.

Pioneering audio equipment engineer Rupert Neve dies aged 94





Quote:Neve is known for his work on microphone preamplifiers, equalizers, compressors and early large format mixing consoles. Many of his classic products are considered classic equipment and are very highly sought after by the professionals in the recording industry. This has resulted in several companies releasing products that are Neve replicas or clones.

He is often credited as the man who made the recording console

. In 1989 he became an inducted member of the Mix Hall of Fame, and in 1997 he was the third person to receive a Technical Grammy Award. In a 1999 survey conducted by Studio Sound magazine

he was selected by his peers as the number one audio personality of the 20th century.

He was interviewed in the 2013 documentary Sound City.

At 17 years of age he volunteered as a sailor for the Royal Navy and soon after settled in England where he built a mobile recording studio in which he recorded choirs, operas, and public addresses.

In the 1950s, Neve worked for Rediffusion, primarily a forerunner in early cable TV systems. Neve left the company, and formed CQ Audio, a company specializing in the manufacture of hifi speaker systems. In the early 1960s, he designed and built a mixing console for a composer named Desmond Leslie, from Castle Leslie, Ireland, where the original desk is still housed. In 1961, he formed Neve Electronics.

In 1964, Neve built a transistor-based mixing console with an equalizer for Phillips Recording Studio in London. As demand for consoles increased, Neve started a life of manufacturing and designing audio recording equipment. Neve has founded or been involved with several companies, most recently Rupert Neve Designs, based in Wimberley, Texas, United States, where he has resided with his wife Evelyn since they became U.S. citizens in 2002.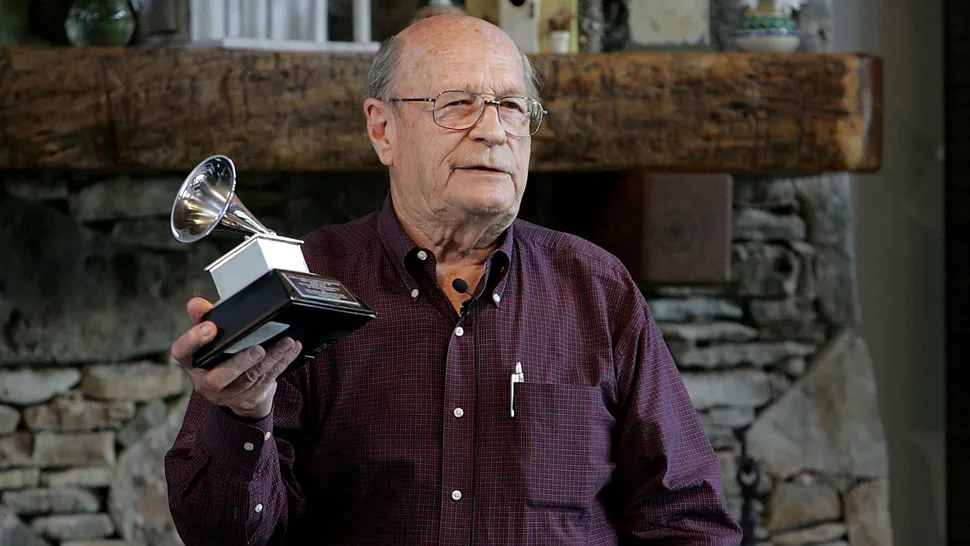 ---
RE: New Grim Reaper Death Thread - GoodOwl - 02-13-2021 09:29 PM

Leslie E. Robertson, structural engineer of the World Trade Center, passes away at 92


Quote:

Leslie Earl Robertson (February 12, 1928 – February 11, 2021) was an American engineer.

He was the lead structural engineer of the Twin Towers of the original World Trade Center in New York City, and served as structural engineer on numerous other projects, including the U.S. Steel Tower in Pittsburgh, Shanghai World Financial Center, and the Bank of China Tower in Hong Kong.

Robertson's engineering career began in 1952, when he joined Kaiser Engineering. He worked as a mathematician, structural engineer, and electrical engineer during this time. He was also part of the investigation team studying the collapse of an offshore drilling platform. He later went on a road trip and ran out of funds in Seattle, where he then joined the Seattle-based structural and civil engineering firm Worthington and Skilling in 1958.

When Seattle-born American architect Minoru Yamasaki won the competition to design the World Trade Center, Robertson and his firm Worthington, Skilling, Helle, and Jackson (WSHJ) got the engineering contract. Designed between 1966 and 1971, this was the firm's and Robertson's first high rise construction. His interactions with Yamasaki led to the conceptualization of the tube design for the buildings with exterior columns that were two feet apart along the building's height, specifically designed to provide a sense of enclosure for people in the building. This also meant that, unlike most skyscrapers of the time that were supported by concrete or steel frames with columns interrupting the interiors, the WTC design permitted column-free interiors, with the weight being handled by the exterior columns and the steel and concrete cores. Steel trusses supported the floors and connect exterior columns and the central cores.

In addition to the World Trade Center, he was involved in structural engineering and design for other skyscrapers including; the U.S. Steel Headquarters in Pittsburgh, the Shanghai World Financial Center, and the Bank of China Tower in Hong Kong designed by the Chinese-American architect I. M. Pei, and Puerta de Europa in Madrid. Further Robertson engineered the building of museums in Seattle, Portland, Maine, and Berlin in addition to theaters and bridges. Robertson structurally engineered the installation of American sculptor Richard Serra's works.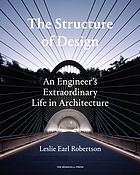 In 'The Structure of Design', Leslie Earl Robertson recounts a storied career in engineering which has generated among the most innovative and formally daring buildings of the modern era, as well as his extensive collaborations with several titans of the practice: Minoru Yamasaki, Philip Johnson, Max Abramovitz, Romaldo Giurgola, I. M. Pei, Pei Partnership, KPF, Kiyonori Kikutake, and Gunnar Birkerts. Robertson's large-scale projects with some of the leading sculptors of the day, including Richard Serra and Beverly Pepper, display the range of this engineer's craft. As a restless student from modest origins, Robertson's first encounters with engineering were almost accidental, yet he would go on to be lead engineer of the landmark IBM buildings in Pittsburgh and Seattle while still in his early thirties. Immediately thereafter he embarked on what would become his most renowned project, the World Trade Center, to be followed by scores of major buildings around the world.


---
RE: New Grim Reaper Death Thread - Redwingtom - 02-17-2021 11:23 AM




---
RE: New Grim Reaper Death Thread - umbluegray - 02-17-2021 03:09 PM

RIP, Carman.

Died: Carman, Christian Showman Who Topped Charts with Triumphant Faith






---
RE: New Grim Reaper Death Thread - DavidSt - 02-19-2021 08:14 PM

Prince Markie Dee, Of The Fat Boy, dead at 52.


---
RE: New Grim Reaper Death Thread - DavidSt - 02-19-2021 08:23 PM






---
RE: New Grim Reaper Death Thread - GoodOwl - 02-22-2021 02:14 PM

Daft Punk break up after 28 years, announce split in 'Epilogue' 1993-2021 R.I.Punk.

Artist:

Daft Punk


Track:

"Epilogue"


Feb 22, 2021




Artist:

Daft Punk


Album: Homework
Track:

"Da Funk"


1995 Soma Quality Recordings/Virgin Records





We've got much more control than money. You can't get everything. We live in a society where money is what people want, so they can't get the control. We chose. Control is freedom. People say we're control freaks, but control is controlling your destiny without controlling other people.
– Thomas Bangalter, in regards to the duo's creative control and freedom
---
RE: New Grim Reaper Death Thread - DavidSt - 02-24-2021 04:33 AM






James Burke of the Five Stairsteps dead at 70.


---
RE: New Grim Reaper Death Thread - DavidSt - 03-01-2021 07:13 PM

Van Tyson, Journalist, Publisher, Journalist Instructor at Arkansas Tech, and a childhood friend of my late uncle, dead at 83.


---
RE: New Grim Reaper Death Thread - GoodOwl - 03-04-2021 02:46 AM



Neville O'Riley Livingston

OM OJ (10 April 1947 – 2 March 2021), known professionally as

Bunny Wailer

, was a Jamaican singer-songwriter and percussionist. He was an original member of reggae group

The Wailers

along with

Bob Marley

and

Peter Tosh

. A three-time Grammy Award winner, he is considered one of the longtime standard-bearers of reggae music. He was also known as

Jah B

,

Bunny O'Riley

, and

Bunny Livingston

.

Discography

Sam Dede mourns Reggae legend Bunny Wailer


---
RE: New Grim Reaper Death Thread - CliftonAve - 03-04-2021 12:41 PM

RIP to Jim Crockett, Jr, former President and CEO of Jim Crockett Promotions. Grew up watching his wrestling promotion at 6:05 on TBS.


---
RE: New Grim Reaper Death Thread - DavidSt - 03-04-2021 02:03 PM

Actress Joan Weldon, star of the old sci-fi cult horror classic, Them, dead at 90.

Geoffrey Scott, actor of Dark Shadows, Dynasty and 1st and 10, dead at 79.


---