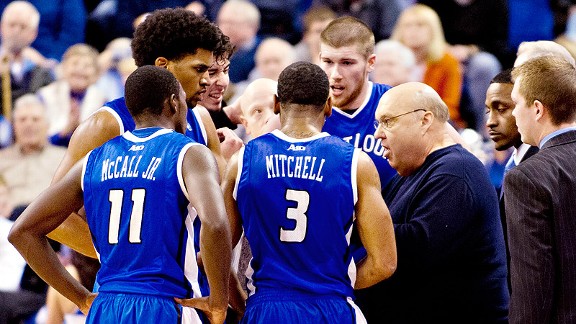 1. Hello, Butler and VCU: The Atlantic 10 gladly took Butler (Horizon) and VCU (CAA) a year early and pulled off the coup of the realignment season. These two weren't going to be allowed to play in the respective conference tournaments so the choice was obvious -- bolt to the A-10. The league can make a strong case to be a top-seven conference in the country -- and the Bulldogs and Rams immediately leap to the top of the conference power structure. They will compete for the regular-season and conference tournament titles. Book it.
2. Headed to Brooklyn: The A-10 had a hard time finding a home for its conference tournament. The perfect location would've been the Palestra in Philadelphia, but it's simply too small. So the league headed to a big-time media market when it chose the brand-new Barclays Center, home of the Brooklyn Nets. The league's Big Apple debut might result in a record number of bids for this stacked conference.
3. Saint Louis as a favorite: This is exactly why Rick Majerus returned to college coaching. He loves to coach. He relishes teaching. But let's not fool ourselves -- he wants to win. And he did it as well as any coach in the country at Utah. The Billikens are the favorite because they have the most experience and now have NCAA tournament experience. They expect to win. Xavier and Temple have dominated this league and I would never count out either in the title chase. But the favorite this season is in St. Louis.
Butler
Best-case scenario:
Last season was a textbook transition year for Brad Stevens' program, and a well-earned one after miraculous back-to-back runs to the NCAA title game. The Bulldogs still had their defensive calling card, but Stevens' group of young, developing players couldn't score, thanks primarily to an utter lack of outside shooting. Butler shot 27.2 percent from 3-point range; only four teams in Division I were worse. Fortunately, help is on the way. Arkansas transfer Rotnei Clarke, who averaged 43 percent from 3 and scored 15.2 points per game as a junior, is eligible to compete this fall, and Indiana native Kellen Dunham is a top-100 recruit known for one trait above all else: prodigious outside shooting. It's fair to expect a drastic uptick in perimeter efficiency from this offense, and the same baseline defensive strength. If that's the case, there's no reason this group can't make a run at its first A-10 title in its very first opportunity.
Worst-case scenario:
A middle-of-the-pack finish. There are question marks here. With Clarke, Dunham and Chrishawn Hopkins, the backcourt may lack a true point guard, and it will definitely lack one with the lock-down perimeter defense (not to mention the team leadership) of departing senior Ronald Nored. Likewise, Butler is far from a sure thing on the front line. Andrew Smith is long and good around the rim but can be pushed off the block and Khyle Marshall, though effective on the boards, is undersized at 6-6. Over the long term, Butler will be just fine in the A-10; it's been good enough to make this transition for years. But in 2012-13, in a much tougher league, that front line could prove vulnerable.
http://espn.go.com/ncb/notebook/_/page/s...tlantic-10