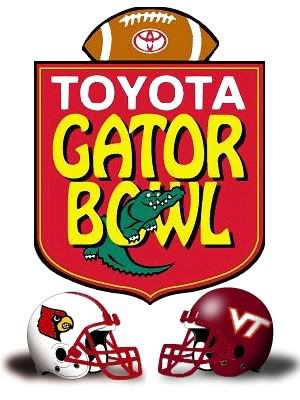 January 2nd, 2006 @ Alltel Stadium, Jacksonville, Fla.
#12 Virginia Tech (10-2) vs #15 Louisville (9-3)
After a hearbreaking (and less than full effort) loss in the ACC Championship game to the Florida State Seminoles, the Hokies again journey back to Jacksonville to take on the Big East runner-up, Louisville. In what promises to be probably one of the best games of the bowl season, the all-everything Jimmy Williams and the stout VT defense will take on the record-setting offense of Louisville. Unfortunately for the Cardinals, they will be without All-Big East QB Brian Brohm, who tore ligaments in his knee in a victory over UConn. Because of this, the Cardinals will be forced to depend on All-American defensive end Elvis Dumerville, who led the nation with 20 sacks, in his real breakout year.
Dumerville will have his hands full dealing with 1st Team All-ACC QB Marcus Vick, who will attempt to put the whole package together against the Cardinals. Although he comes in with 10 interceptions, 5 of those came in two games, against Miami and Maryland. Coming off a game where he threw for 335 yards (a career high) in the loss to FSU, Vick will attempt to be a better decision maker against the Cardinals, as the Hokies seek to try to make something good come out of this season which really has been disappointing.
The Hokies started out ranked #7 in the country, and actually got all the way up to #3, until a stunning and shameful lost to the Miami Hurricanes at Lane Stadium. After that loss, the Hokies looked like they were in trouble. However, the Georgia Tech Yellow Jackets upset the Hurricanes in the Orange Bowl, and that gave the Hokies a second chance. The Tech players talked of not letting the opprotunity get away, and it appeared that it would happen that way, as they finished the regular season blowing out UVA and UNC by a combined score of 82-17. However, they came out flat in the ACC Championship game, and ended up falling short in a comeback bid, falling 27-22.
The Hokies will play their butt off in this game, and they will blowout the Cardinals, winning 42-20.
Go Hokies