---
RE: INside The Walls of Troy - trojanbrutha - 10-06-2010 04:08 PM

TROY NOTEBOOK: Jernigan sets Sun Belt record




Troy senior receiver

Jerrel Jernigan

broke the Sun Belt Conference record for career receiving yards. He needed only 28 yards entering Tues­day's game to surpass former North Texas wideout Johnny Quinn's all-time mark of 2,718 yards. Jernigan broke the re­cord on a 14-yard catch along the sideline in the second quarter.



Heavy heart:

MTSU senior defen­sive tackle

Dwight Smith

played against Troy with a heavy heart Tuesday night.

Smith, a Swainsboro, Ga., na­tive, learned last week that his mother died of a heart attack, and over the weekend his 99-year-old grandmother also passed away. Smith's mother was a primary caregiver for his grandmother.

Smith still opted to play his 40th career game, the third-most on the team. It was also his 27th career start (13th consecutive).
...
...
...


---
RE: INside The Walls of Troy - Burn the Horse - 10-06-2010 07:38 PM

thanks for being our INsider trojanbrutha. I actually get all my Trojan news through this thread, so keep up the awesome work.
---
RE: INside The Walls of Troy - trojanbrutha - 10-08-2010 11:00 AM

Troy's Davis, Thomas do well as starting linebackers

By Drew Champlin
Published: October 07, 2010

It was one game on national television where the rest of the world learned who Troy's

Kanorris Davis

was, but the sophomore linebacker isn't ready to let up.

The Trojans dominated rival Middle Tennessee 42-13 Tuesday night in Murfreesboro, Tenn. Davis and fellow sophomore linebacker

Jacoby Thomas

were a big reason the Blue Raiders, led by Preseason Sun Belt Player of the Year Dwight Dasher, were held to just 207 total yards.

It was the first career starts at linebacker for both players as the Trojans switched to a three-man front. The week before against Arkansas State, Thomas started at defensive end and the two rotated there because of an injury to starter Mario Addison, who returned against MTSU.
...
...
...


---
RE: INside The Walls of Troy - trojanbrutha - 10-10-2010 11:39 PM

Around the Sun Belt: Where does Troy stand

By Drew Champlin
Published: October 10, 2010

Troy showed it was the team to beat again with a 42-13 win on national television at Middle Tennessee last Tuesday. Sure, the team has flaws, but I'm not looking at this year as a strong year around the league. Let's look at the rest of Troy's schedule and see how the Trojans stack up.

OCT. 16 - vs. UL-Lafayette - The Cajuns were good in the first half against Oklahoma State last Friday, but imploded in the second. Troy has scored 48 points in each of the last three meetings with ULL, but the Cajuns have gotten their yards and points as well. This is probably Troy's toughest Sun Belt game yet in terms of talent, but Troy has won four straight in this series as well. Read THIS UPDATE on ULL.
...
...
...


---
RE: INside The Walls of Troy - trojanbrutha - 10-11-2010 09:33 AM

Troy players honored again

October 11, 2010
By Drew Champlin

It seems like I'm doing this every week about this time, but Troy had some more players honored for Player of the Week.



OFFENSE

-

Corey Robinson

had 259 yards with 3 TDs and 0 INTs in the 42-13 win over Middle Tennessee on national TV.



DEFENSE

-

Kanorris Davis

had nine tackles, three for loss, with a sack and a forced fumble. He made sure Dwight Dasher knows who No. 44 is.
...
...
...


---
RE: INside The Walls of Troy - trojanbrutha - 10-11-2010 02:20 PM

Monday notes/what's in a name?

October 11, 2010
By Drew Champlin

...
...
...
On a humorous note, the guys in the Troy media relations department pointed out something on UL-Lafayette's game notes. TROY STATE is referenced three times (see the first three photos below). Despite its official name being University of Louisiana at Lafayette, the school has asked to be called Louisiana or UL. Well, no one outside of Lafayette actually does that, even the Sun Belt, probably because there hasn't been an official name change. We refer to them as ULL to differentiate between ULM (UL-Monroe), and, well, because that's the name of the school.

So imagine the surprise when ULL's game notes for the Troy game are sent this way.
...
...
...


---
RE: INside The Walls of Troy - trojanbrutha - 10-12-2010 09:44 AM

Troy Notebook: Defense hoping to continue improvement

By Drew Champlin | dchamplin@dothaneagle.com
Published: October 12, 2010



TROY --

Troy made a statement to the rest of the Sun Belt last Tuesday night with a 42-13 thumping over Middle Tennessee.

The Trojan defense played by far its best game of the season, holding the Blue Raiders to just 207 yards of offense.

All of that doesn't matter now as six more teams stand in the way of Troy's quest for a fifth straight Sun Belt title. The Trojans (3-2, 2-0 league) host UL-Lafayette (2-3, 2-1) Saturday at 6 p.m.

Troy was picked second behind MTSU in the preseason polls and used that as motivation. However, now that a week has passed, more motivation must be found.
...
...
...


---
RE: INside The Walls of Troy - trojanbrutha - 10-12-2010 01:49 PM

trojanbrutha


Corey Robinson

has 59 votes in the @daveyobrien fan vote! Go vote at http://bit.ly/2gUmn6 #college #football #Troy
43 seconds ago


---
RE: INside The Walls of Troy - trojanbrutha - 10-13-2010 09:13 AM

Troy's Brandon Kent gets his chance

By Drew Champlin
Published: October 12, 2010



TROY

—

Brandon Kent

was undersized, coming off a major knee injury and went to a high school not traditionally known for football success when he tried to walk on at Troy three years ago.

If this was baseball, Kent was close to striking out.

But the Troy junior defensive back has beaten the odds and achieved his dream, earning not only a spot on the Trojans' roster, but a key spot on Troy's kickoff team.

The Rehobeth native, who stands just 5-foot-7 and 180 pounds, thanks to a 10-pound weight gain over the summer, made his mark in Troy's 35-28 win over Arkansas State. Kent forced a fumble and was credited with four tackles.
...
...
...


---
RE: INside The Walls of Troy - trojanbrutha - 10-13-2010 09:51 AM

Troy WR Jerrel Jernigan can do it all

By Andrea Adelson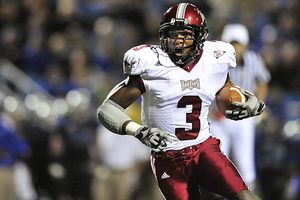 Jerrel Jernigan's 2,730 receiving yards is a new
conference record.

Can he catch? Check. Can he run? Check. Can he throw? Check. Can he return kicks? Check.

Not much is missing from the Jerrel Jernigan repertoire. One of the most versatile players in the country, the Troy wide receiver/returner/runner has just about done it all in his career there. In his senior season, Jernigan is poised to have his name etched all over the school and Sun Belt record books.
...
...
...


---